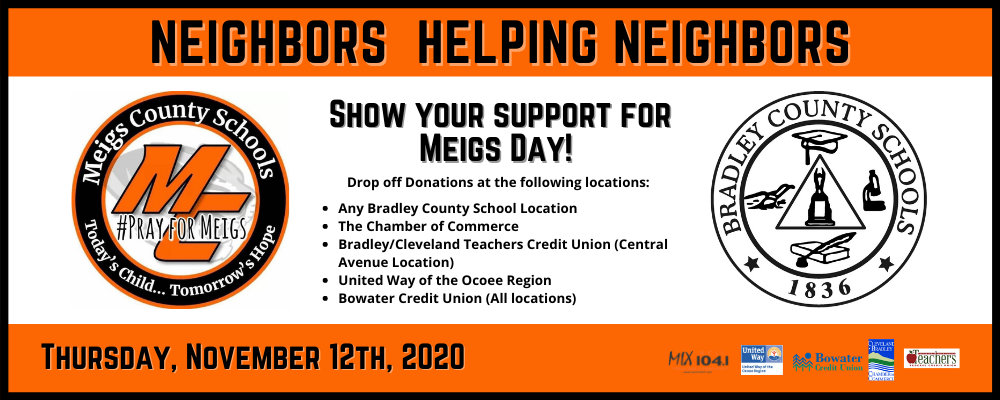 Bradley County Schools will host a donation event to help the Meigs County Schools families affected by the fatal bus accident that took place on Oct. 27.
A head-on collision involving a Meigs County Schools bus and a utility vehicle on the 7700 block of Highway 58 near Decatur in Meigs County resulted in the deaths of the bus driver, Lisa Dillard, and a 7-year-old-girl. Numerous others were injured in the crash as well.
Memorial rides, circles of prayer and vigils have been held for the victims and numerous families affected by the crash.
On Thursday, Nov. 12, Bradley County Schools will partner with the United Way, Mix 104.1, the Cleveland-Bradley Chamber of Commerce, Bowater Credit Union and Teachers Credit Union to collect monetary donations for those families on Meigs Day.
Drop-off locations include any Bradley County school, the Chamber of Commerce, the Bradley/Cleveland Teachers Credit Union on Central Avenue, United Way of the Ocoee Region, and any Bowater Credit Union location.
Checks can be made payable to the United Way, with Meigs County written on the memo line.
Everyone is also encouraged to wear Meigs County Schools colors, orange and black, on Nov. 12.
~Love your neighbor as thyself~