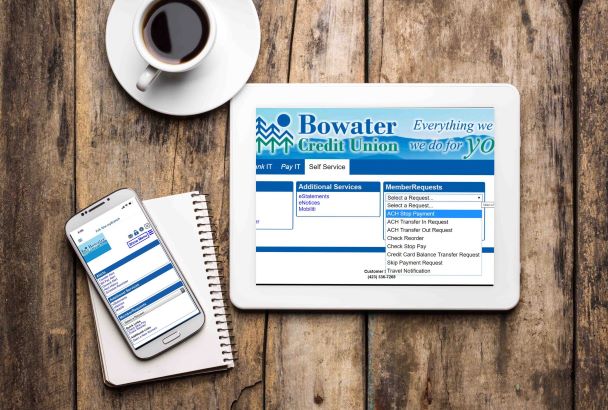 Whether you are on your phone, tablet, laptop, or desktop computer, you'll enjoy these convenient options found inside the Self-Service Tab, under Member Requests in myBRANCH: 
Make a Loan Payment from any account anywhere.                                                                                                                 Tired of sending in your loan payment by mail? You can now transfer money in to make a loan payment by ACH from any account you own, even those at another credit union or bank. Just choose "ACH Transfer In Request".
Transfer money to or from your accounts at another credit union or bank.                                                                   Transfer money into your accounts at Bowater Credit Union from somewhere else, or transfer money out. Just choose "ACH Transfer In" or "ACH Transfer Out". (Restrictions Apply)
Delay-A-Pay on your loan.                                                                                                                                                                        If you'd like to delay your loan payment for a one-time fee of $25, use the "Skip Payment Request" form. (Restrictions Apply)
Check Reorder                                                                                                                                                                             
Check Stop Pay                                                               
Credit Card Balance Transfer Request.                                                                                                                                             Did you know our Classic VISA has no fee for balance transfers? Use this service to request a transfer of your high-interest credit card debt to your low, 9.9% APR rate Bowater CU Classic VISA. 
Travel Notification.                                                                                                                                                                                    If you plan on traveling, notify us using this easy form and we'll make sure our credit card and debit card fraud detection centers know what activity is expected. Make sure you notify us well in advance of your travel. 
Open a New Account.                                                                                                                                                                       Ready to apply for Free Interest Checking, or open that Special Savings Account? It's fast and easy through the myBRANCH Self Service Tab.
If you need help with any of these services, we're here for you! Give us a call at 336-7268 or email [email protected]